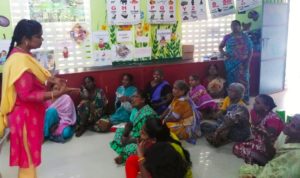 On Aug 14, city-based NGOs conducted an awareness program on child abuse and good parenting skills for the residents of Nochikuppam, Dooming Kuppam and Srinivasapuram.
Volunteers from various NGOs including The Banyan, Don Bosco Anbu Illam, Integrated Child Development Society (ICDS), Montfort Community and Development Society (MCDS) and more were involved in organizing this program.
They spoke in batches to around 100 residents of this area on good parenting skills and gave tips to tackle child abuse.
A few years ago, these NGOs have come together under the name of 'Neithal' to serve the people living off the loop road in Marina.
"When we started working in this area, we understood that many children had undergone physical, sexual, and psychological abuse. And, most parents neglected these incidents reported by their children. Hence, we planned to give them an awareness on this," says Harilal, Program Manager of the Banyan Shelter at San Thome.
One of the residents of Srinivasapuram who wanted to be anonymous said that many people, including close relatives, were sexually abusing their children. "And this has made many children depressed," she says.
The awareness program was held at the community hall in Srinivasapuram and at certain Anganwadis in the area. Rajeshwari, a volunteer of Don Bosco Anbu Illam, an NGO based in Wall Tax Road says, "We sensitized the parents on the need to talk and listen to their children.We advised them to take action even if the abuse is done by a known person/close relative. We also taught them lessons on good touch and bad touch and asked them to teach it to their children."
Photo by Don Bosco Anbu Illam