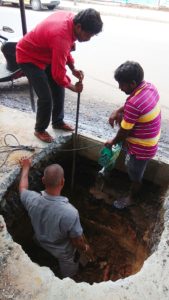 On September 4, the Public Works Department (PWD)'s contract workers dug up the pavement off Venkatakrishna Road, Mandaveli to sink cement rings for the construction of recharge wells here.
The workers say that the Chennai Corporation officials of ward 126 have identified that the entire stretch of this road opposite to Mandaveli Bus Terminus gets flooded during rains. "Hence we have been told to construct 10 recharge wells on this side. Each one would be 10 ft deep, and it will have cement rings of 3 ft diameter," says a worker.
However, the pavement that was broadened recently has been chosen for its construction. "If we construct them on the roadsides, there is a possibility of it getting broken when heavy vehicles pass on it," he says.
He says that the excess water from the road will be diverted to the recharge wells through pipes or slits for ground recharge.