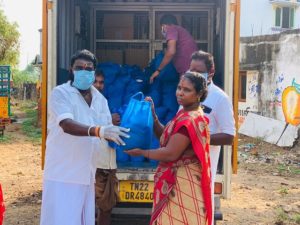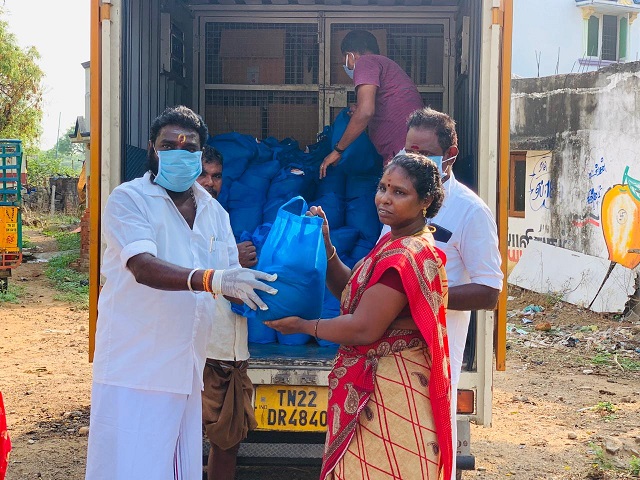 Team Ignite is what they call themselves. A day after the 'Janta curfew' was announced on March 22, this group of four volunteers got together to do what they could do to help the needy in their community.
Three of them were part of a Harley Davidson (motorcycle) riders group and one was the classmate of one of the riders. They pooled in their funds and soon 100 packets of cooked food were ready. They went around the Mylapore and Mandaveli area on March 23 and distributed the packets. The next day they were able to distributed 150 packets and by the end of two weeks they had averaged out at 300 packets a day.
As the funds started coming in, they started sponsoring food through Amma canteens at Saradapuram, Greenways Road and R. A. Puram. That is when they were told that migrant workers at four community centers, C. P. Ramaswamy Road, Alwarpet, K. B. Dasan Road, Mandaveli Street and Karaneeswarar Pagoda Street, needed toiletries and snacks. About 250 of them were given the toiletries they needed, biscuits, buns and bread.
From the first week of April, the group also started giving out ration kits to all those who needed it. 190 priests from the Mylapore area in addition to the residents of Mahabalipuram, Tiruvallur, Oothukottai and Poondy received these kits.
The group then moved on to mask distribution. 5000 masks and 95 litres of sanitizers were distributed to all those who needed them, including Corporation staff and policemen.
S. Balasubramanian, an interior decorator and one of the founders of this group, says, "We have raised more than Rs. 30 lakhs so far from friends and relatives and we have managed to give out 9700 ration kits till the end of May. From June, however, we have scaled down our operations and will continue to distribute 100 packets of food everyday and 100 ration kits as long as there is a need. Our group now has 14 members and we are in the process of getting formally registered as an NGO".
To read more about them and contribute visit https://www.crowdkash.com/campaign/470/help-raise-funds-to-provide-ration-kits-for-those-in-need. The group works out of Balasubramanian's office at Alamelumangapuram, Mylapore. He is a resident of Thiruvengadam Street, Mandaveli. Contact him at 9841045980.