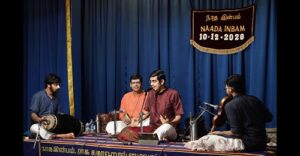 Naada Inbam, the sabha based in Luz is launching its own December Season music festival from today, December 10 with a concert by Sikkil Gurucharan at 6.15 p.m.
The classical music fest will be on till January 4, 2021 with  2/3 concerts on some evenings and a few lec-dems included in the schedule.
All concerts have been pre-recorded at the Raga Sudha auditorium the past weeks and will be webcast via Parivadini's YouTube channel. They are free to access.
The sabha has had to skip live concerts open to rasikas due to the current pandemic regulations.
Among the artistes whose concerts will be webcast are those of Jayanthi Kumaresh, Bharat Sundar, R K Shriramkumar, J A Jayanth, Injikkudi Subramanian, Mylai Karthikeyan, Brinda Manickavasakan and Nisha Rajagopalan.
The concerts are available at www.youtube.com/parivadinimusic
You can access the complete concerts schedule at – https://www.facebook.com/Naada-Inbam-406293536785922