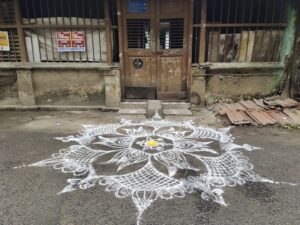 If you want to take in the visual delight of kolams, then this is the best time of the year to do it. Stroll down any inner street of Mylapore and you are bound to enjoy the best kolams.
On the first morning of the margazhi season, the inner streets of Mylapore sported small, large and some coloured kolams – in Nadu Street, Nattu Subbaraya Street, Arisikaran Street, Arundale Road . . .
It must be said though that there were seemingly less kolams than one expected. But it was too early on a misty Wednesday morning to ask why this was so.
Mylapore Times intends to post on its Mylapore TV channel on YouTube slideshows of these kolams from time to time in December and in January.
If you or your family designs kolams shoot a photo and share it with the newspaper – mytimesedit@gmail.com. We will include them in the slideshows.