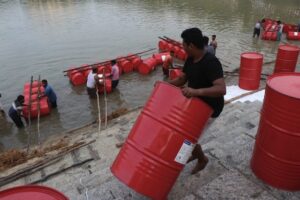 Work has begun to construct the float needed for the annual Thai Poosam teppam fest of Sri Kapali Temple in Mylapore.
The large drums that keep the structure afloat in the water in the tank arrived first and were piled up on the East Tank Street.
A day later, workers knitted the drums and then built the floor of the float on top of the floating drums alongside the east end of the temple tank.
Next, the skeletal structure that makes the decorative part of the float will come up and this will finally be decorated with flowers and illumination.
The teppam is from Jan.28 to 30.