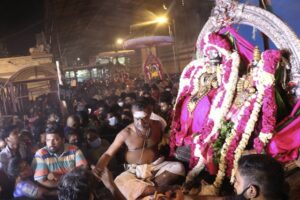 All roads and streets in Mylapore led to the temples dedicated to lord Shiva on Thursday night as people celebrated Shivaratri.
And then, towards midnight these temple zones – be it around Sri Kapaleeswarar or Sri Veleeswarar temples or Sri Veerabadraswamy or Sri Maleeswaarar temples.
In some temples, people offered milk for the abhishekham but they did so by leaving milk sachets in receptacles – easy to do but generating lots of plastic for the night.
And as is still the case in temples and markets, few people wore masks.