Aarthi Ravichandran of Alamelumanga Puram, Mylapore keenly re-cycles stuff at her home.  She says she follows a 'minimalism' path in life.
For Navaratri, this chartered accountant brought her philosophy to play to her kolu.
"Stemming from the principle of minimalism which I am trying to follow, I have been researching and working on waste reduction and segregation. The kolu idea came up at around 4 am when I was feeding my three-month old. I wanted to spread the importance of waste segregation and reduction," she said in a note.
She used red and green cloth pieces to differentiate the right and wrong. Stitched them, used reusable wooden clips, one-side printed paper, reusable glue instead of plastic cellophane tapes.
And instead of bommais, she placed stuff of everyday use at home which can be recycled and re-used.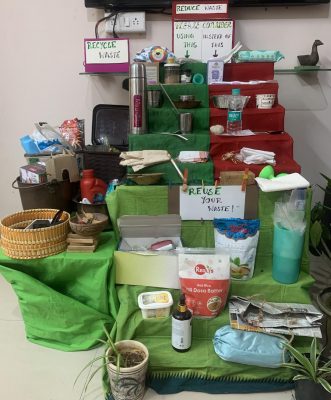 "We had asked our guests to bring their own bags to reduce waste and ensured we used the actual whole betel nut and turmeric pieces instead of the plastic packets which are sold at shops and markets these days," she adds.
The family also tried to avoid using Ziploc bags and instead, used dhonnai/butter paper.
Aarthi says she has been recycling all the dry waste, hazardous waste and e waste and composting wet waste.
"I have been trying to promote this inside our compound first and hope I can get others to do the same," she adds.
<< IF YOU HAVE A COLOURFUL NAVARATRI STORY TO SHARE, mail – mytimesedit@gmail.com