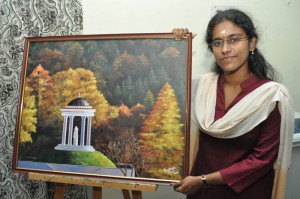 This Sunday is to be a red letter day for young Soorya Visvanathan. She will welcome her teachers, guests and visitors to her first big exhibition of her paintings.
Soorya, a resident of Thachi Arunachalam Street, Mylapore is currently a engineering college student but for many years now, she has been painting when she gets the time. And she has not allowed her disability to come in the way of her studies and her passion.
On Sunday, she plans to exhibit about 25 pieces of art, mostly on Nature at the Raj Sundar Palace Hotel hall at the far end of R. A. Puram ( Andhra Mahila Sabha campus).
Her art guru S. Venkatachalapathy has guided her to this end and he too will be proud that his special ward will have a solo show.
Since her second birthday, Soorya was trained at the famed Bala Vidyalaya in Adyar to handle her hearing disability and she went on to join Children's Garden School, Mylapore, managing the mainstream.
When she was free she doodled a bit, gradually began to paint and in 2009 she joined Sri Annai Kamakshi Kalaikoodam in K. K. Nagar where she got professional training.
Engineering studies today takes much of her time ( her dad says she is off at 7 a.m. and back home only after 6 p.m. and chooses to paint or attend art classes on a Sunday).
But this Sunday's show will be special. Her college principal is the chief guest and if she does manage to sell some works, she will be over the trees!
The show is open to all, from 11 a.m. to 5 p.m.
You can reach Soorya's parents at 45, Thachi Arunachalam Street, Mylapore. Phone – 94446 02592