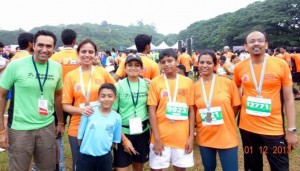 Responding to a call in The Mylapore Times newspaper, a dedicated group of Mylaporeans who trained hard since August this year to get in shape for their first race at The Wipro Chennai Marathon 2013 ran the race and are feeling good about it now.
The hosts received 20 entries from enthusiastic folks who wished for a healthy lifestyle and believed that fitness was the path to it.
The members of this chosen group are perhaps the happiest residents of this neighborhood for, they are all basking in the glory of having successfully completed either the 10Km run or the 21.1 Km half marathon distance last Sunday, December 1.
On Marathon Day, Mylaporeans, quite literally of all shapes, sizes and ages, took to the roads early in the morning wearing their bright orange running T-shirts. Running for different causes – creating cancer awareness or instilling fitness as a way of life in children, these runners represented how truly democratic the sport of running can be.
Says Rinku Mecheri, an Alwarpet resident who ran the 10 Km race along with her school-going son Raghav, "A challenge is always sweet when you achieve it and it's sweeter when you do it with someone precious to you. Raghav and I had an absolutely fantastic experience."
The marathon route this year wound its way past several Mylapore landmarks including the Santhome Basilica and the reopened Lighthouse.
– Reported by Ashwin Prabhu