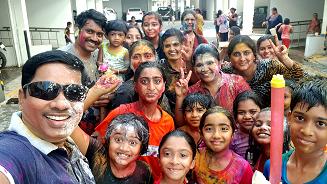 A small space that stays cool in the afternoon was the venue of the holi celebrations held at Ragamalika Apartments, Mandaveli on March 5.
More than 50 residents, including seniors and toddlers gathered there, they were dressed for some action. The fun soon began, organic colours and water balloons were thrown around.
After more than two hours, it was time to clean. The children picked up the torn balloons, while the adults sprayed water to wash off the colours.