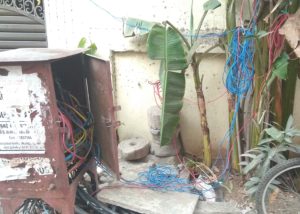 Since the past few days, a few residents of the Periyapalli Street off Madha Church Road, Mandaveli are living with a temporary electricity connection that comes only for fans and lights.
J.Rajan, a resident of this street says,"Due to overload at a junction box (located at the middle of this street), an underground cable got damaged on June 13. The TANGEDCO's workers from the Foreshore Estate office took two days and found the exact location of the fault on June 16. And they promised us that they would restore the power the next day. But till now they have not solved the issue."
"Power was cut to around 16 houses on our road. Later, they gave an alternate connection to some. But for 5/6 families, they have not given a permanent solution," he says.
"The officials asked us to buy the electricity cable (both underground and overhead) if we want electricity connections," he says.
With no other option at hand, Rajan and other affected residents have bought new cables spending from their own pocket. "But even after providing them the cables we have got only temporary connections (blue and red cables seen in the picture). The power through this comes only for lights and fans. We can't use appliances that consume more power like Mixie, ACs and washing machines at the same time," says Lucia Mohan, a resident.
"There are two seniors in my house. They are also suffering a lot because of this," says Rajan.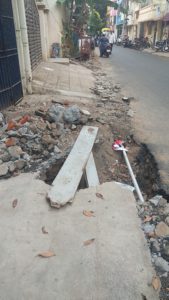 Now, the area which was dug up to find the fault is also not covered properly and the temporary connections are hung dangerously over the nearby banana trees. "And the junction box with a capacity of 10 connections is overloaded," says Ashwin, a resident.
Lucia says this problem has been there in their area for the past three years."Three years back when an overload occurred they said they would set up three more junction boxes and distribute the connections. But that plan has still not been implemented," she says.
The residents say they have reached out to the AE of Foreshore estate office a number of times. "But she delays the work quoting shortage of workers," says Rajan.