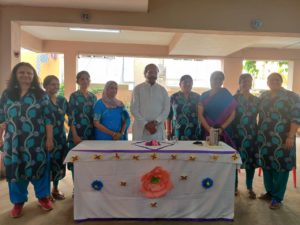 Representatives of Mylapore based Narasimhapuram Residents Association (NRA) recently talked to Mylapore MLA R. Nataraj for help in addressing civic issues and support for development initiatives in the colony including drilling rain water harvesting (RWH) pits in the colony roads to prevent the water logging that happens during the rainy season. The MLA agreed to sponsor two of the five planned RWH pits in the colony (out of the MLA fund) and work was immediately initiated. Four pits have now been installed with one more to be completed soon.
This past Sunday (Dec.22), the MLA was the chief guest at the inauguration of the colony's entrance gate held that morning. At the meet, he promised to sponsor the installation of one CCTV which is the next security initiative of the association. He also stressed on the need for a collaborative approach to develop sustainable and eco friendly societies.
Narasimhapuram, a quaint residential colony sandwiched between Marwadi Thottam and Visalakshi Thottam and comprising 65 residences is celebrating its golden jubilee this year. To mark this, an all women's team took over the mantle of the Narasimhapuram Residents Association (NRA) in April 2019. Since then, the all women's team has been involved in a slew of initiatives aimed at the betterment of the colony and in making it a secure and self sustained society. 24/7 security services, a security cabin for the guards and an entrance gate to the colony were installed with sponsorships from the residents of the colony.