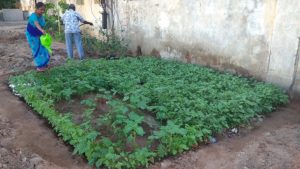 Since a few weeks, the Chennai Corporation's ward 124 office off Kutchery Road, Mylapore, is growing a small garden at its space opposite to their office below the MRTS railway track.
The garden holds plants like green chili, spinach, brinjal, flat beans (avarakkai), tulasi, lily, banana, and hibiscus. The workers of this ward office are seen watering the plants.
"We have been running a compost yard here. And this land next to it was not being used since a very long time. So we started to grow plants in order to put it to good use," says S.Vivekanandan, Junior Engineer, ward 124.
"This is also done to avoid people from dumping waste here," says a corporation worker of this ward.
Vivekanandan says he has taken this initiative as he has an attachment towards farming. "Since I come from an agricultural family, I have an attachment towards plants and farming practices. So I brought all the seeds from our farm at my hometown in Tiruvarur," he adds.
The team plans to use some of the manure generated from the compost yard for these plants. "And soon we are planning to sow the plants throughout the land wherever sunlight falls," he says.
Now at this garden, many plants are about to bear vegetables and flowers."The byproducts will be distributed to our workers who took care of the plants," he says.