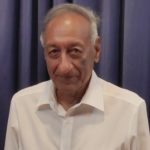 S. Ram, chairman, Wheels India Ltd., and director, Sundaram Finance Ltd., ( seen in the photo here) says that the news of the passing away of his close family friend of  seven decades, R. Raghupathy came as too much of a shock to him.
An engineer, Raghupathy, a senior resident of Luz Church Road worked at Ponds. Ram's brother ( who passed away in an accident) Srinivasan and Raghupathy were classmates at school.
Ram says he was very close to Raghupathy and had long conversations at that palatial'Sir KS House on Luz Church Road over the last 70 years " Raghupathy's house was marked by a big compound and a tall tree at the entrance. He was always very hospitable and generous to his guests."
Ram was a cricketer of some stature and played college cricket for MCC and later 1st division league cricket for Alwarpet Cricket Club before his career was curtailed by a shoulder dislocation.
He remembers Raghupathy's family as being greatly interested in cricket. "His father was a fine opening batsman who played for the Presidency College. Raghupathy himself was a good cricketer and started a private cricket club. Many youngsters from Kennedy Street were part of the team. I have played with him in those days and have shared many 'cricketing moments' with him."
Ram says that his father, the late T S Santhanam (founder of Sundaram Finance) moved to Oliver Road in 1947 and he has been close family friends with Raghupathy ever since "Raghupathy was a fine gentleman, a sincere and honest human being."
As a result of the sudden Government take over of agricultural lands, Ram says Raghupathy lost a lot of his lands in the Srirangam and Thanjavur belt five decades ago. It was a set back for him but he took it in his stride as part of the challenges one faces in life, adds Ram.
Ram remembers Luz Church Road as a two-way road in past with buses plying in both directions. Raghupathy's house, along with mathematician Alladi's, were two landmark locations on the road.
"Without Raghupathy, Luz Church Road will not be the same again, says Ram.
Former chairman of Sankara Netralaya, V. Vaidyanathan said the demise of R Raghupathy as a great 'personal disaster'.
Vaidyanathan recalls his association with Raghupathy from his college days at the Guindy Engineering College in the 1950s "Though he was one year junior to us, everyone in our batch simply loved him. He was a very popular boy even as a teenager and mingled well with all of us."
"In recent years, every time the 1962 batch came together, all the members insisted on inviting Raghupathy even though he did not belong to our batch. That was how popular he was amongst our group."
Raghupathy was also an active office bearer of the renowned Alumni Association of the College. Recently, when the annual sports event was conducted, he participated in the 'Goli' competition and won the event.
Vaidyanathan says that Raghupathy always took care of his fitness "He would go on a one hour morning walk around the Nageswara Rao Park and the Luz Avenue with friends."
"The trait that I personally liked in him and was a reason for me to connect well with him was that he always went out of the way to help the poor," says Vaidyanathan