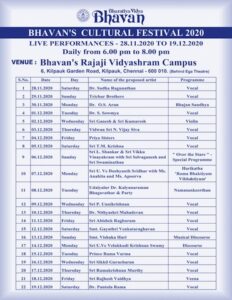 Bharatiya Vidya Bhavan's Chennai kendra is launching its annual December Season festival of music this evening – but at a different venue, that is at the Rajaji Vidyashram school campus in Kilpauk's Kilpauk Garden Road.
The new venue provides for an open air facility and is being used to suit the pandemic time regulations that will allow rasikas to sit apart or drive in and sit in their cars and listen to the music every evening.
The Tamil Nadu governor will formally inaugurate the fest at 5.15 p.m.and the first concert is by vocalist Sudha Ragunathan at 6 p.m.
Bhavan's director K N Ramaswamy says that the concerts are free to attend but he has not planned live web-streaming. He intends to arrange for transport of rasikas from Mylapore if he gets formal permit from the state transport authority.
The fest is on till December 19 and features artistes like T M Krishna, Vijay Siva, P. Unnikrishnan, Ramakrishnan Murthy, Gayatri Venkataraghavan and Vishaka Hari. Discourses are also lined up but there will not be any dance recitals.
Rasikas will have to follow pandemic time rules to attend the concerts, including wearing masks through the concert.
Some people have been critical of Bhavan's plan to have live concerts, saying that despite precautions there is a real risk of rasikas or artistes contracting Covid from asymptomatic people.
But Bhavans's Ramaswamy says his team is taking all precautions as detailed by the state.